CLICK on CD's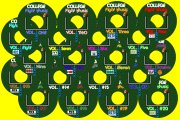 To Purchase Or To Find
Out More Information...

Throw Me An Email
College Football Fight Music CD's (21 Volumes) ~ ALL NEW!!!
My College Football Fight Music CD/MP3 Store has changed many times over the years as the NCAA Football Conference realignment is a never ending process as money dictates which schools play in the
(5) major BCS conferences and who play in the other FBS mid-major football conferences. My collection now contains 21 different CD's, with Volumes 1 & 13 focus on all five of the power five conferences (ACC, Big Ten, Big 12, PAC-12, SEC and Notre Dame). These same conferences are also focused on: Volumes 2, 3, 4, 5, 6, 8, 19, 20 and 14 (alma maters). The mid-major conferences, which now include the AAC, CONF-USA, MAC, MWC an the SUNBELT are representive on Volumes 9, 10, 11, 12 and 15 (alma maters). I also now have different fight music CD's (Volumes 16, 17 and 18 (alma maters) focusing on the schools from the FCS (Football Championship Subdivision). Of course it is impossible to include all the songs on the CD's, thats for both the FCS and FBS CD's, so you can also purchase the individual songs from each college for only $1-$5 each depending on the number of songs I have available. And if you already purchased in the past, at least a donation would be of great help to me. To send a donation, just click on the PayPal banner just below. Thank you very much...