CLICK on CD's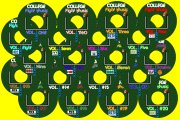 To Purchase Or To Find
Out More Information...
College Football Fight Music CD's (21 Volumes) ~ ALL NEW!!!



After five months of non-stop working, I have finally finished the completion of the new CD's, which now feature 2 CD's from both the Big Ten and SEC along with 3 seperate Alma Mater CD's featuring the BCS, FBS and FCS on each separately. There will also be two different brand new CD's (Vols. 16 & 17) that include fight songs from the newly added FCS schools. Volume #6 has been split up and now hosts just the PAC-12, where as the MWC has been added with the Sunbelt to form the new Vol. #12. And lastly, the new formation of the American Athletic Conference or AAC is featured on it's own CD, Volume #9. With all the realignment, there has been many, many changes to the CD Collection and it now features more songs than ever or you can also purchase the songs by email for every BCS/FBS school from $2-$5 each. And the FCS Conferences start at $5 too. And if you already purchased in the past, at least a donation would be of great help to me. To send a donation, just click on the PayPal banner just below. Thank you very much...

Throw Me
An Email